First things first!!! I must acknowledge that going to Kangra in the month of August 2021 with Women On Clouds was one of my best decision in many many ways.
After a long time, I went looking for a break , but came back longing for more.

To begin with, we met in a rainy day at Pathankot (Foot Hills of Himachal), wherein were taken to Emma Changa Village which has a huge home with a mini Haveli feeling inside. It belonged to our host's ancestors. The surrounding was nostalgic and so natural and we all felt as if we all-the metro retro crowd- travelled back in time. It was an exact movie replica environment. We freshened up and for the 1st time had direct chulha baked brunch cooked lovingly by the woman of that village with direct with fresh milk and curd .

Later, a basic tractor trolley ride with local music was arranged for we all 8 Girls (1st for many amongst us) wherein we were taken to ferry around the whole village.

There is an Airforce Base adjacent to the Village wherein multiple choppers were flying and landing continuously. They were roaringly flying so low over us as if we could visibly Salute each side…but mind it for security reasons , we are not allowed to take any pics .


After one hour ride,we were taken to a huge farm land with a tubewell with an adjacent room for changing in midst of a complete vegetables/fruits green garden. Without wasting a moment , we all jumped in the Tubewell (again 1st for many) and to our bliss , we were there till evening. Though exhausted , we all preferred to walk back through the farms back to the Haveli. We had a simple dinner made of vegetables grown in the village. It was different in taste, soft and easy to digest. The water we had there direct from the Well and was so sweet and appetizing that no Mineral Water can even match it. We all slept in the arms of nature directly on the roof with a beautiful climate seeing the stars (again 1st for many). Frankly the 1st day was enough for me to relive on many fronts but that was just the beginning WoC has planned for us.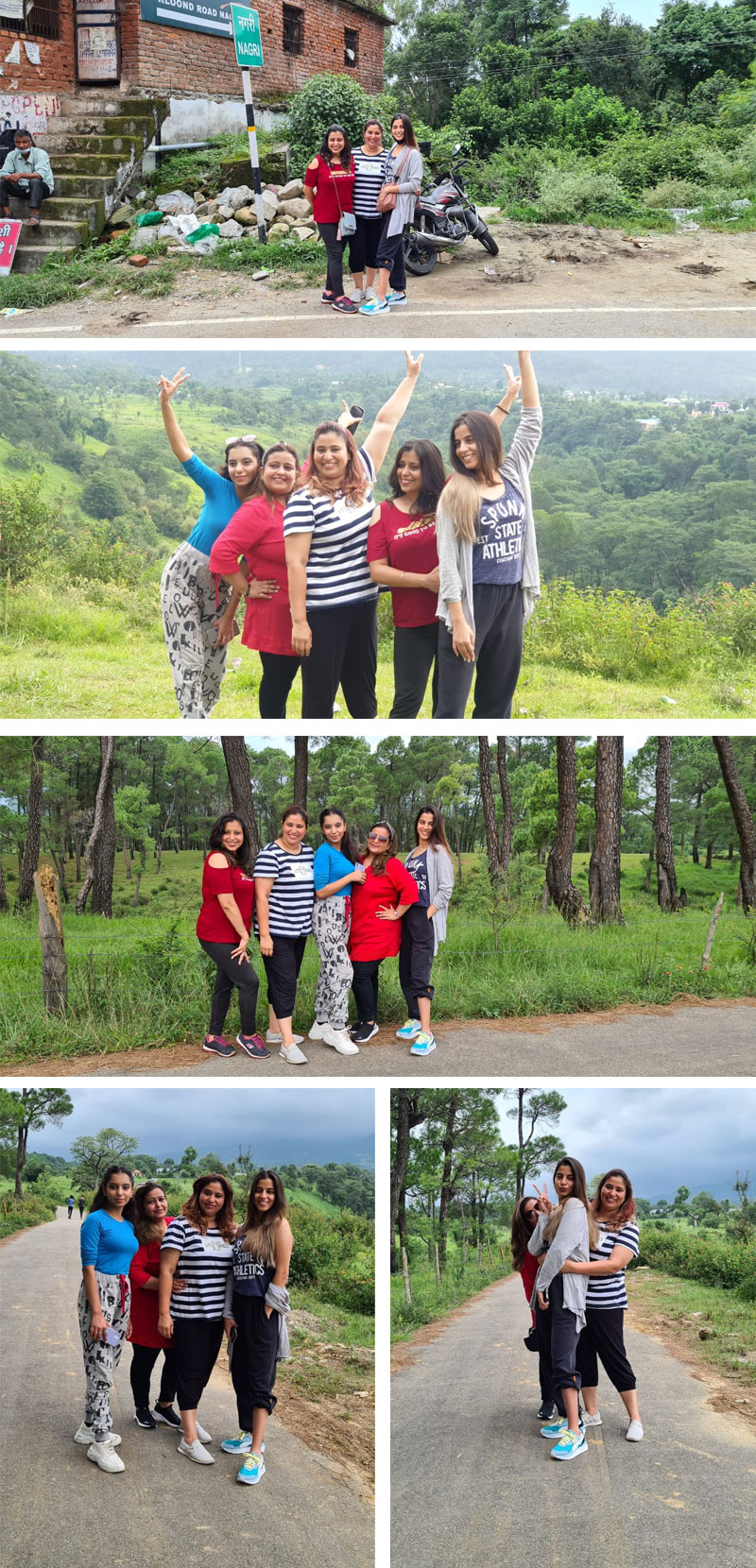 Next day we had a c Bus waiting for us in the village ready to take us to Kangra. The journey was for 3 hours amongst beautiful mountains and valleys but we made it 5 hours J as we stopped many times on the way to get ourselves clicked at every natural / beautiful spot. As we ascended, we found ourselves truly as the Company Name Goes "WOMEN ON CLOUDS"

We reached Kangra where we felt again as if we were in between the mountains and all surrounded by Cloud. The hotel had its own Kitchen Garden from where our meals were prepared along with add on Non Veg or sweet dishes Rolled out meal after meal.

There were all sorts of indoor/outdoor sports & activities for fun building up. We went to sleep late in the dense midnight and got up next morning in dense dark due to excess clouds and thunder storms vibrations . So exciting. Gave us goosebumps!!!

The view from our window was mountains, thick clouds, lightening, heavy rains and all these humongous visuals and we viewed it all sitting in a serene room and cup of tea/breakfast in our fresh air th many cups of teas. We also experienced many species of local birds who came to our window asking forfood and to be petted.
By evening , we went to see a small zoo nearby and bought some local made souvenirs.
2 Days of being pampered and then, as all good things have come to an end, we drove back . On the way , we visited the Palampur Tea Manufacturing unit and tried the Himachali delicacies.The entire trip was so well planned and mindblowing!!

I vouch to come back once again and probably to go to Dalhousie or even do a Spiti with WoC.

Written by Rama Sood